Natural Latex Pillows Are Sustainable
WHICH LOFT IS RIGHT FOR YOU?
SIDE SLEEPERS: Most side sleepers should opt for a higher loft pillow, which cradles the neck and head while elevating the shoulders.
BACK SLEEPERS: Back sleepers have the latitude to sleep on either high or low loft pillows; back sleepers who snore or suffer from sleep apnea, however, should choose a higher loft pillow to better open their airways.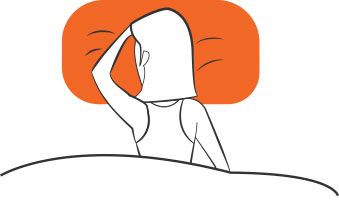 STOMACH SLEEPERS: Stomach sleepers should look for a lower loft pillow to create a more neutral spine position—this will help you avoid stiffness, aches, and pains in the neck, shoulder and back regions.
Natural Latex Pillows Are Sustainable
100% Natural latex pillows are better for your body, and for the planet! Natural rubber or tree-derived rubber is eco friendly. Harvesting and using the product itself has less impact on the environment. The Rubber tree is a sustainable crop and helps maintain the global carbon balance in the atmosphere.
100% Natural and Organic Latex Pillows with excellent ventilation and healthiest microclimate while sleeping. Our natural and organic latex pillows are a wonderful addition to a good night's rest because of their high responsiveness and support, excellent durability, and airflow that provide long-lasting comfort. The Latex is GOLS (Global Organic Latex Standard) Certified and also Oeko-Tex Certified. For a Limited Time the Solid Latex Foam Pillow comes with a thin protective White Organic Cotton Cover with Zipper for Free. 
We also have shredded latex pillow in an unzippered cover in standard size if you are looking for a natural and non toxic down alternative feeling. Unlike other shredded latex pillows, ours is finely shredded to give you the luxury feeling of softness and head cradling support.
How to clean your pillows?
It is vital to keep your pillow clean to maintain proper hygiene and extend the pillow's life. They are of course a bit tricky to care for, but you can do it easily, it's just a matter of some simple steps.
You can't just put them into a washing machine. If you do so then definitely you will wrap its shape. Instead of using a washing machine to clean your latex pillows, you can use a cloth along with warm soapy water and spot clean the areas that you think need cleaning.
Once the spot cleaning is done, make sure to let the pillow fully air dry.
Never expose your latex pillows to direct sunlight as it can make the material hard and brittle.